The Indian premiere of House of the Dragon, a prequel to the massively popular Game of Thrones, will take place this weekend. Disney+ and Hotstar, two online video services, will simultaneously air the show's debut at the same time it airs in the United States.
Beginning on Monday, August 22 at 6:30 am IST (Indian Standard Time), you can watch new episodes online. The first season is set to consist of 10 episodes, all of which will be based on George RR Martin's book Fire and Blood. The series will tell the tale of the Targaryen Civil War, which occurred 300 years before the events of "Game of Thrones."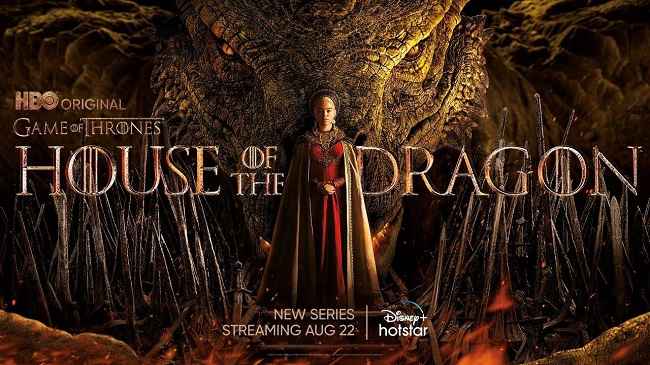 In the novel Fire and Blood, the Targaryen dynasty struggles to choose who will succeed on the Iron Throne. The series has several parallels to the original Game of Thrones, what with the protagonists' lust for power and the subsequent struggle for the throne.
As much as Game of Thrones focused on the Targaryen dynasty and the rivalry between the Houses Stark and Lannister, House of the Dragon focuses on a single family and their struggle to determine who will succeed to the throne.
There will be some very spectacular dragon fights in this show. Since word of the show's imminent premiere spread, fans have been counting down the days. To those who have been patiently waiting for a new season of Game of Thrones since the series' official cancellation in 2019, this may come as a pleasant surprise. Fans can put their faith in this prequel series to compensate for their disappointment with the last few seasons of Game of Thrones.