The OnePlus Watch is OnePlus' first full-fledged attempt at a smart wearable product, one that its fans have been waiting with bated breath for quite some time now. We first heard rumblings about a OnePlus smartwatch dating back to circa 2015, but the company put that project aside to focus on its evolving smartphone lineup. In the past few years, a much more mature OnePlus expanded into television and audio products. This year it finally took the plunge and introduced its first fitness tracker called the OnePlus Band followed by its first smartwatch, simply called the OnePlus Watch.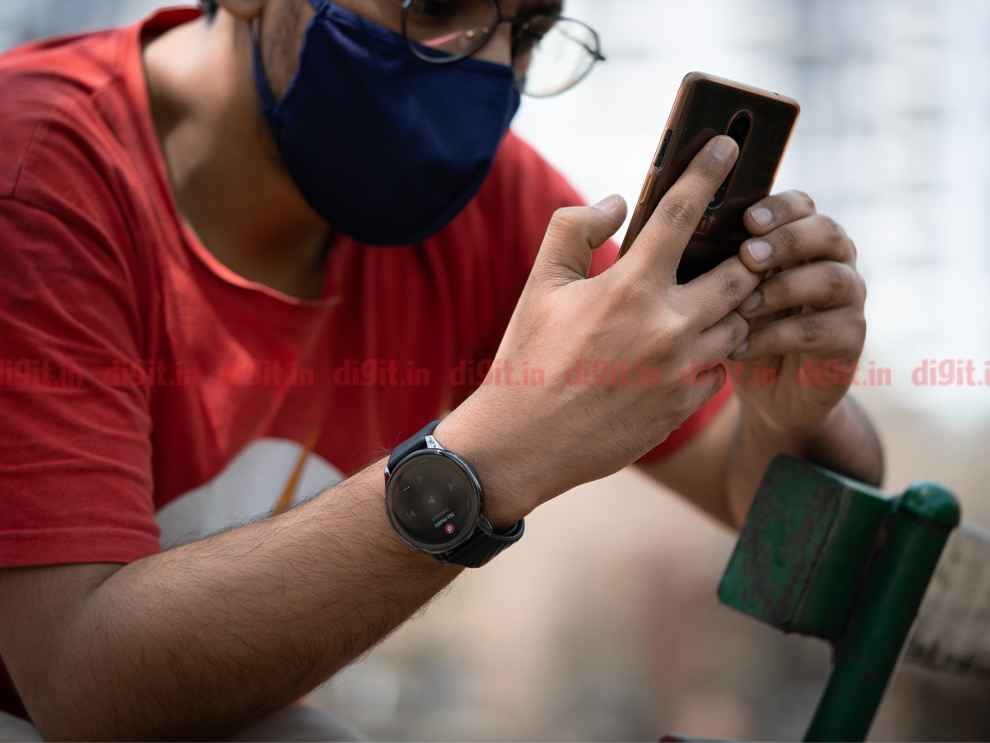 Starting at Rs 14,999, the OnePlus Watch has a premium build and design that tries to give us a feel of a classic timepiece albeit with modern subtlety. The OnePlus Watch is available in the Classic Edition with Midnight Black and Moonlight Silver colours along with a Cobalt Limited Edition. From a blood oxygen sensor to an optical heart rate sensor, 5ATM water resistance to speaker support, the OnePlus Watch is packed with features often seen only on high-end smartwatches. But is that enough to make it a compelling piece of timekeeper, we find out in this review of the OnePlus Watch.
OnePlus Watch Build and Design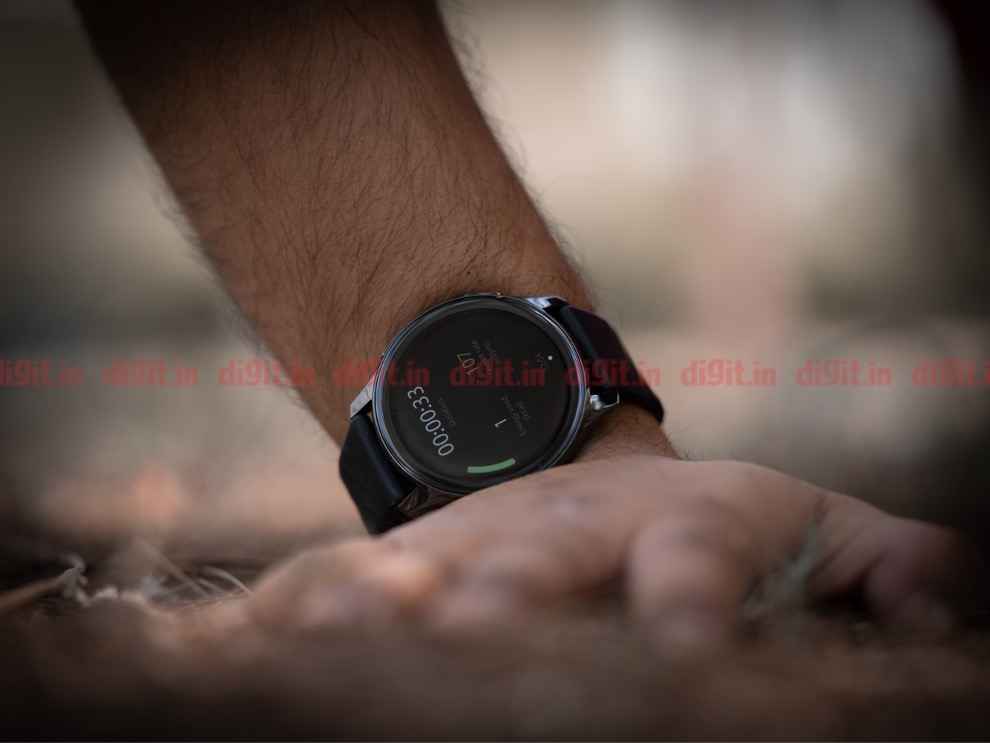 Straight out of the box, the OnePlus Watch feels very premium in the hand with its circular 46mm dial. The Classic Edition of the smartwatch, which we received for this review, is crafted out of 316L grade stainless steel featuring a 1.39-inch display that curves towards the edges while the base is made out of polycarbonate material. The OnePlus Watch weighs 76 grams (45 grams w/o straps) which could be considered a bit hefty for people with skinny wrists and measures 10.9 millimetres in thickness.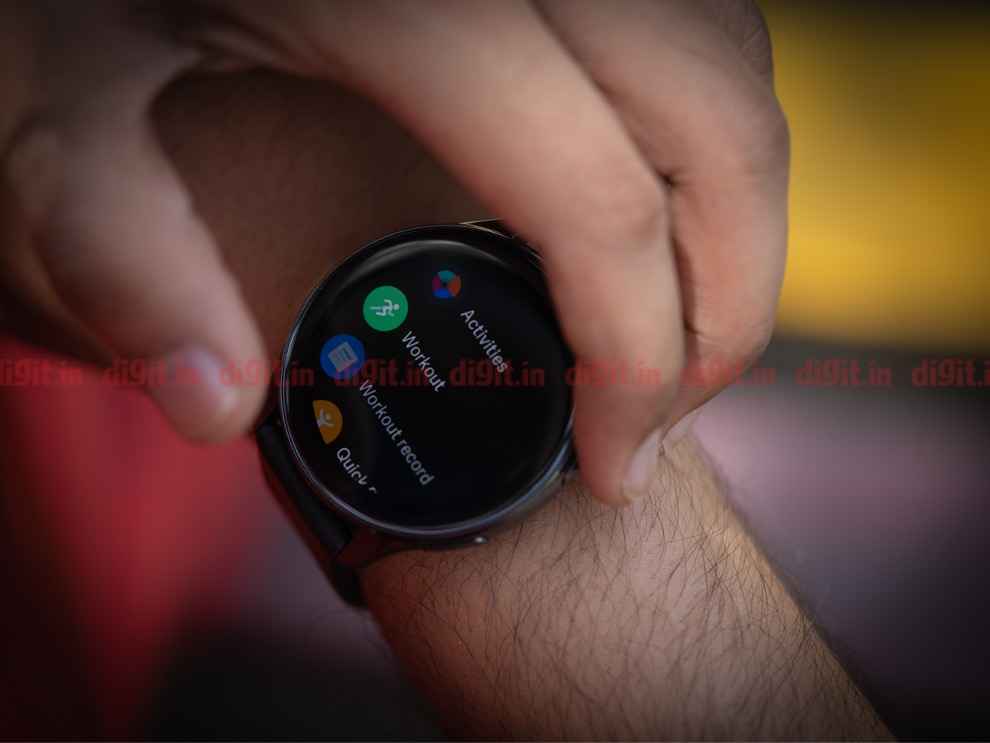 The OnePlus Watch has a navigation button engraved with the company's name for easier identification and a function key that can be customized from the settings menu. The buttons are fairly tactile and large enough to register the click. There's a speaker grille on the left edge, a barometer hole in the bottom and a microphone opening just below the navigation key. The smartwatch comes with a fluoroelastomer strap with a contoured design pre-installed and is also compatible with third-party straps as it has the standard clasp design.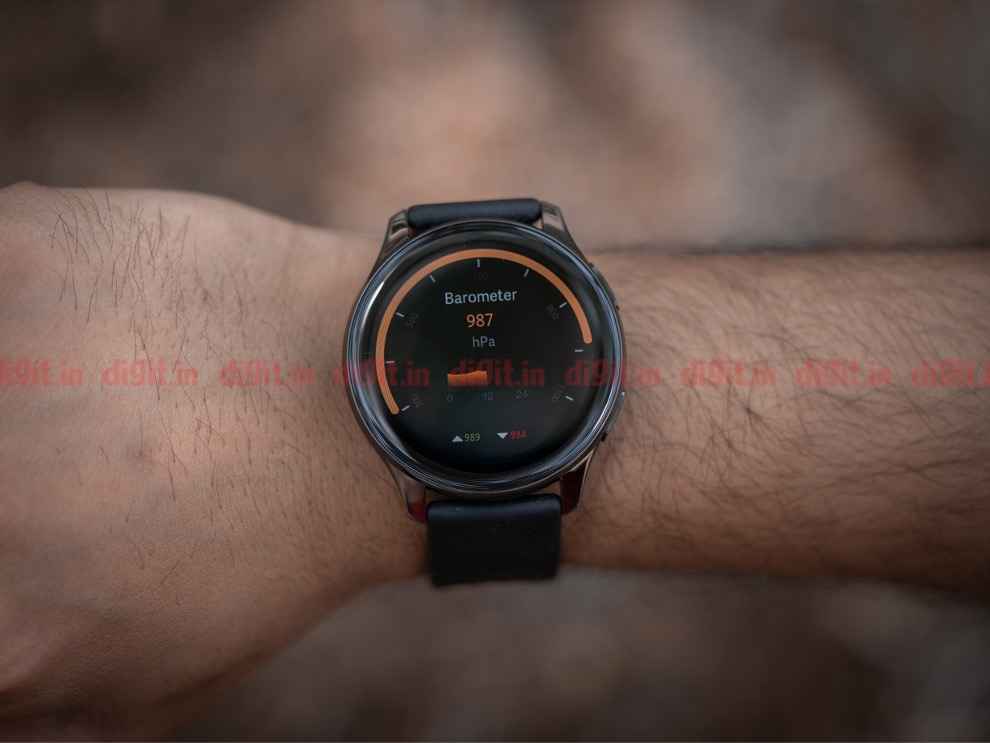 The OnePlus Watch is 5ATM, IP68 rated which makes it resistant to dust and water ingress. The smartwatch can withstand more than just splashes of water and can be taken for a swimming session. However, anything more than that such as water sports or deep-sea diving is not recommended as it can damage the internals.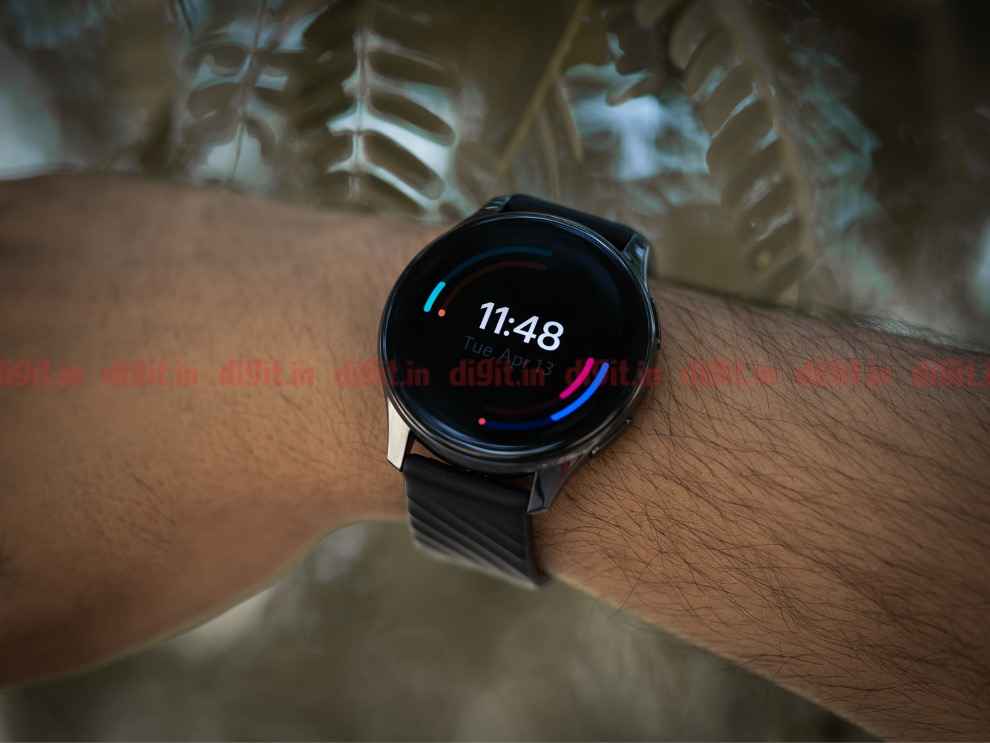 It features a 1.39-inch HD (454×454 pixels) resolution AMOLED display with a 2.5D glass that neatly rounds off at the edges. The edge of the display has concentric lines running across that makes for a subtle effect when light falls on it from different angles. The Cobalt Limited Edition goes a step ahead with its display protected by a layer of Sapphire glass, making it more resistant to daily wear and tear.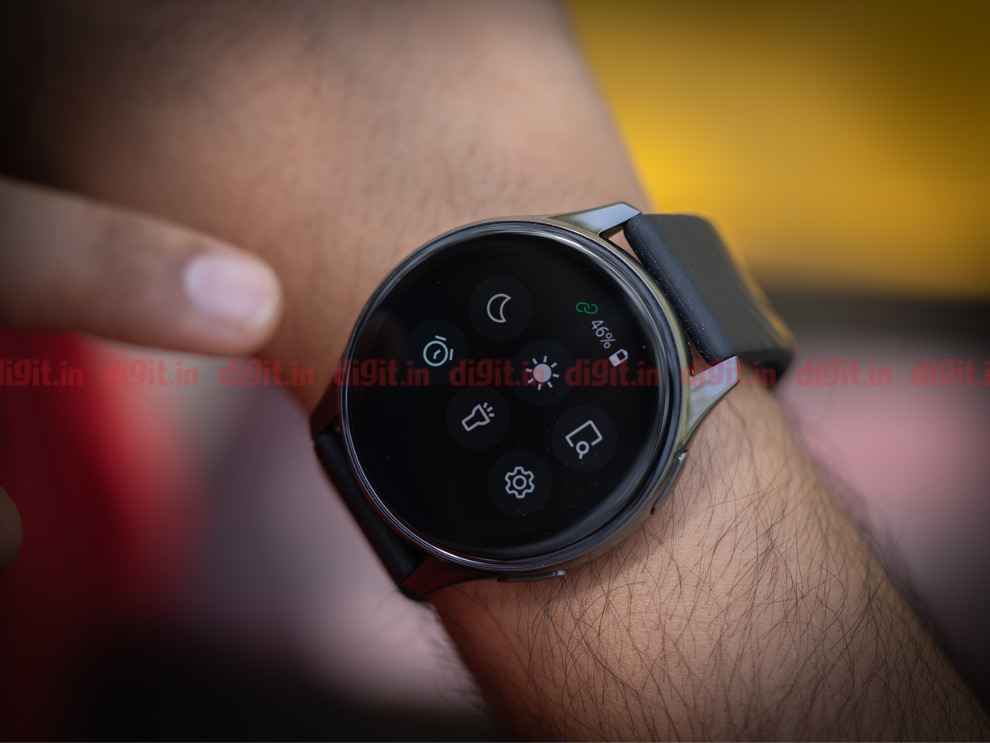 The screen on the smartwatch offers four preset brightness controls: automatic, low, medium and high across five levels of brightness. We found ourselves comfortable with the medium brightness (level 3) indoors while outdoors, we had to turn it up to maximum for better sunlight legibility. The display on the OnePlus Watch is bright and produces vivid colours at all times. Though the watch faces are a work in progress as the OnePlus Watch comes with just 15 complications to choose from. This is a bummer especially for someone who likes to personalize their watches as third-party watch faces are not supported.
Another area where OnePlus dropped the ball is the always-on display functionality. This meant that we either had to raise the wrist or press one of the buttons to see the display every time. We hope that the next OTA update brings the always-on display feature to the OnePlus Watch.
OnePlus Watch Fitness Tracking Features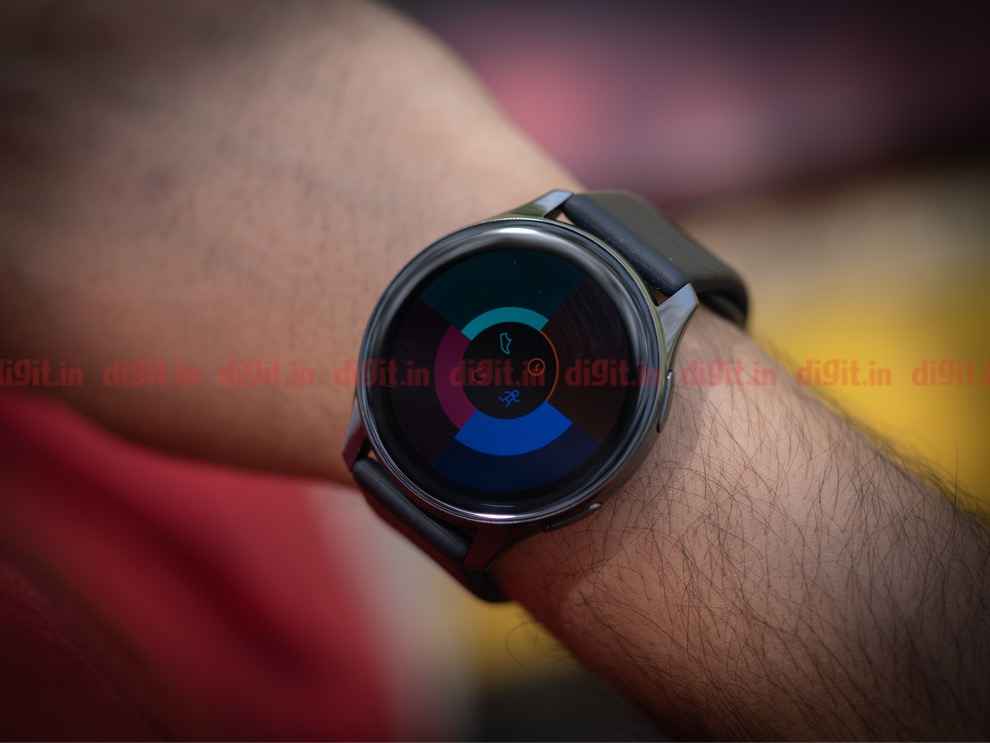 As you may have figured by now, the OnePlus Watch does not run on Google WearOS and instead has a custom RTOS (Real-Time OS) which is also pretty slick in day-to-day use. The smartwatch is powered by the STM32 processor and has 4GB of storage out of which 2GB is user-accessible to store music. It connects to your Android smartphone over Bluetooth 5.0 via the OnePlus Health app. Sadly though, there is no iOS support just yet.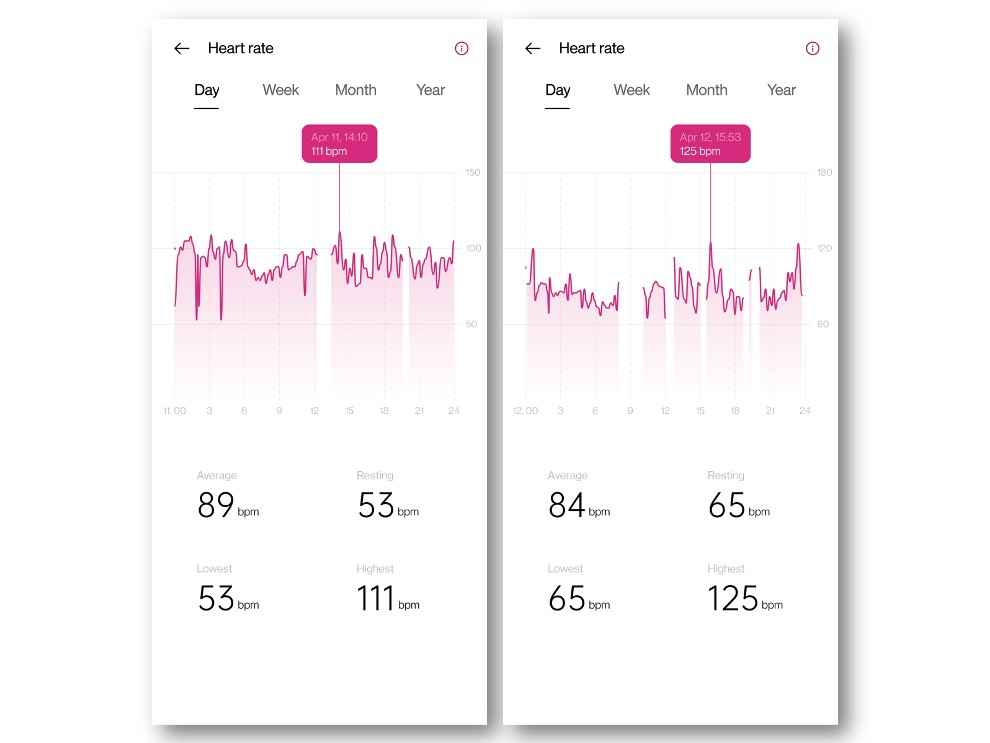 The OnePlus Watch is capable of measuring the wearer's heart rate, blood oxygen saturation levels, steps, stress and even tracks sleeping habits. It alerts you when you have been sitting idle for a long time and asks you to move around so that lethargy does not set in. This is especially beneficial for people who sit in front of a computer or a laptop every day as it gives them a necessary burst of activity. The smartwatch tracks stress levels and categorize them based on heart rate variability detected by fluctuations.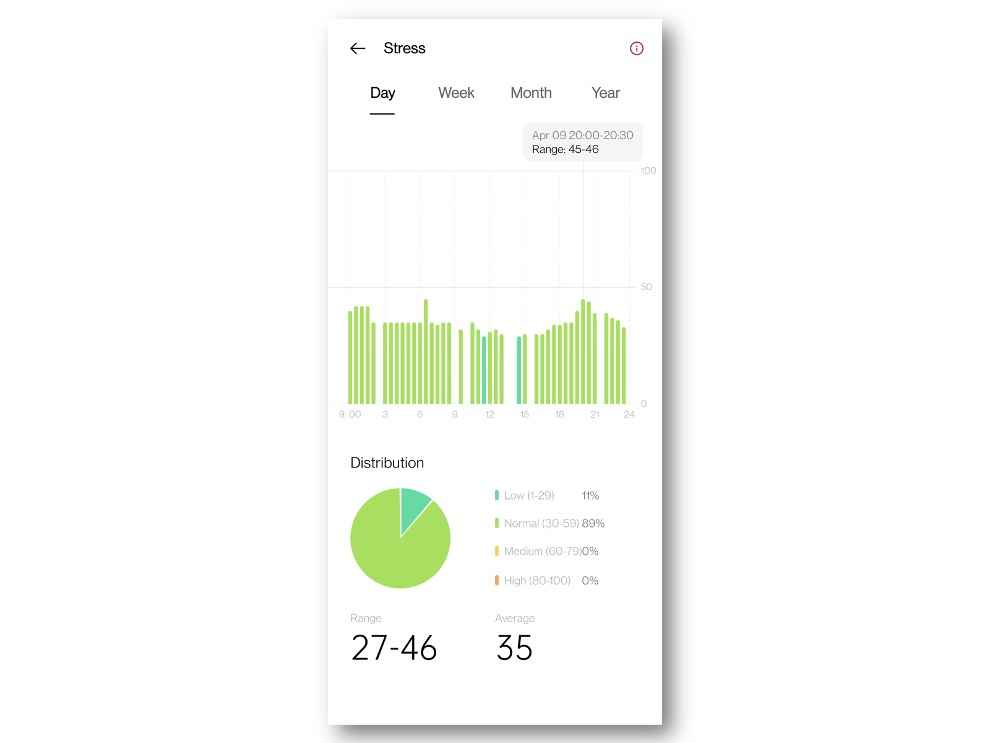 It also keeps a track of your daily activities which includes the number of steps, workout duration, energy burned, distance walked and levels climbed. All of it is neatly presented under the Activities tab that can be viewed on the watch or in the Health app. The smartwatch is also GPS enabled so it can track your runs without a phone.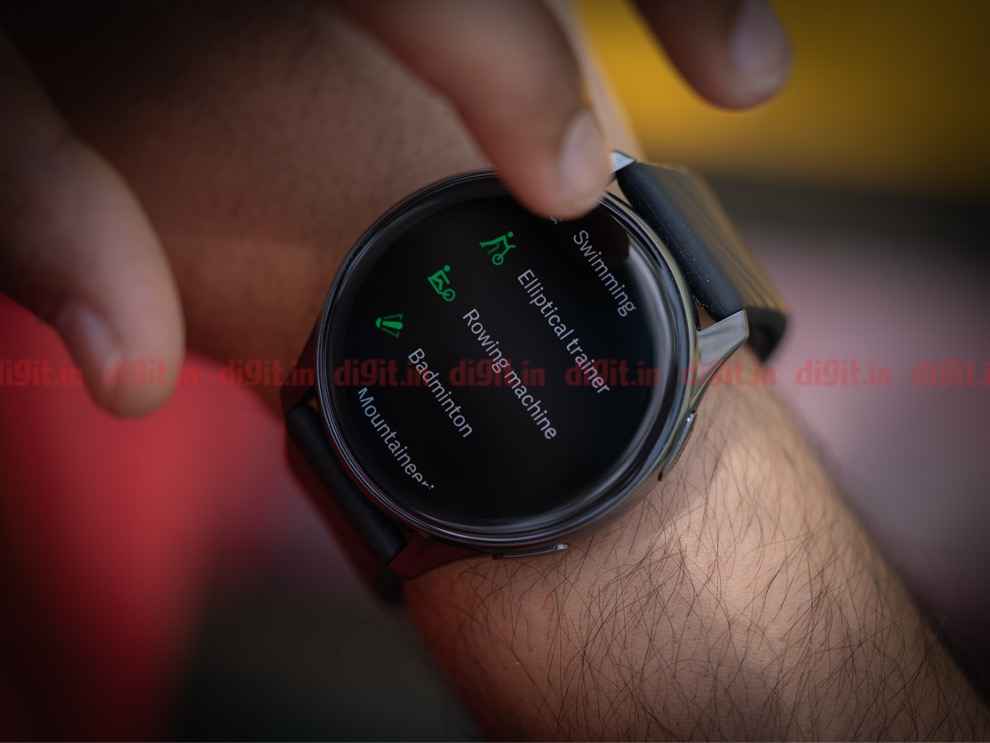 The OnePlus Watch is pre-loaded with 15 major workout modes including outdoor/indoor running, fat burn run, outdoor/indoor cycling, walking, swimming, elliptical training, rowing machine, badminton, mountaineering, cricket, cross-country, yoga and freestyle training, to name a few. These are preset modes that are commonplace for smartwatches these days.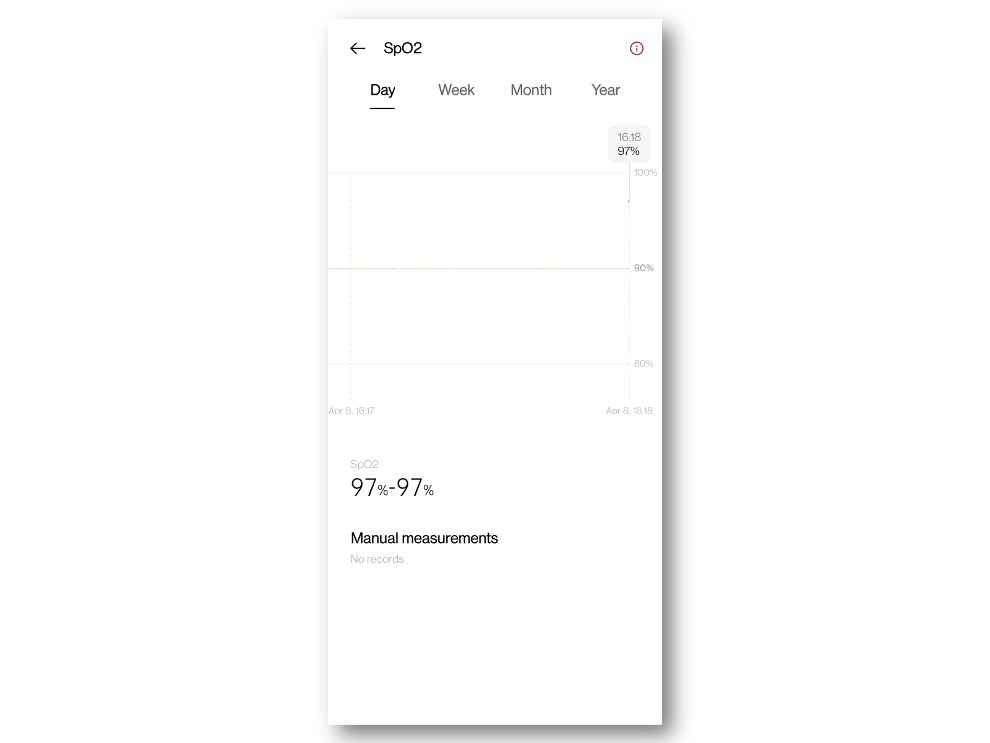 The OnePlus Watch is also capable of measuring SpO2 blood oxygen saturation levels. In our use, we found it to be accurate however, the data for the same takes some time to sync properly to the OnePlus Health app. The smartwatch measures real-time heart rate and displays a graph in the Health app for a 24-hour cycle. It categorizes the data into average, resting, lowest and highest bpm rate for users to easily understand their heart rate behaviour.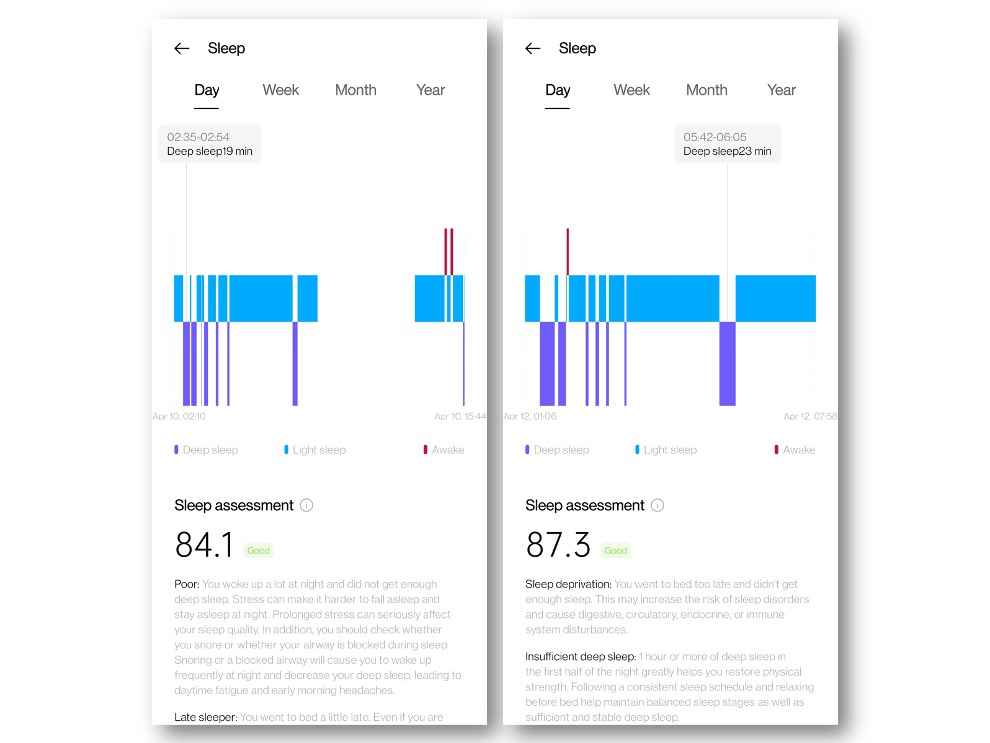 Similarly, the sleep tracking system monitors the wearer's sleeping patterns throughout and offers detailed assessment with actionable insights. Over on the Health app, the sleep cycle is categorized into deep sleep, light sleep, awake time and interruptions. Based on the data collected by the Watch, it offers tips to improve the sleep duration which comes in really handy. There's also an option to track SpO2 blood oxygen saturation levels during sleep which can be enabled manually as it is turned off by default to save battery. The sleep data collected by the OnePlus Watch was pretty accurate with my sleeping habits. The watch starts monitoring sleep patterns from 8 PM every night.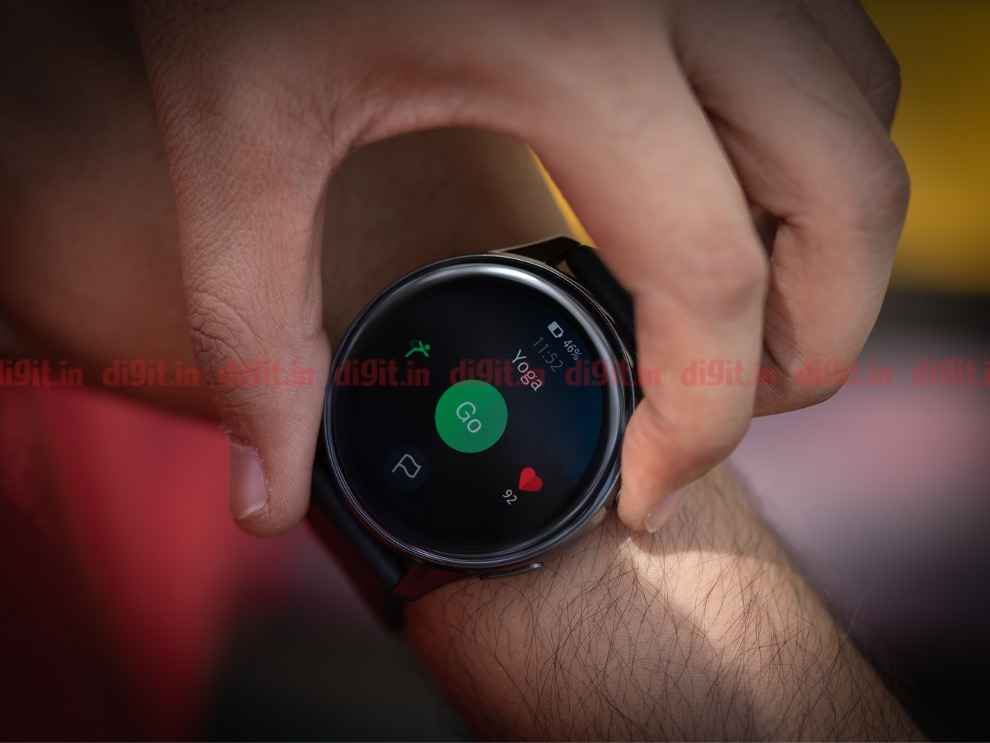 The OnePlus Watch also has a breathing exercise mode that is touted to de-stress and allows the wearer to go into a meditative state. The mode is customizable for upto 5 minutes and 35 breath cycles during which the watch vibrates notifying the user to inhale and exhale. If followed precisely, this guided breathing mode actually helps in relaxing the respiratory system.
The OnePlus Watch is also equipped with a linear motor that has pretty decent haptic feedback. Be it incoming calls, notification or alarms, you will feel the vibration of the alerts though it could have been more balanced. Similarly, the speaker unit onboard can only be used during calls and users will have to connect a Bluetooth earphone for music playback. Since it does not run on WearOS, there is no music streaming app onboard and users will have to manually copy songs to the watch if they want to listen to music during their workouts.
OnePlus Watch Battery Life
The OnePlus Watch is equipped with a 402mAh battery that the company claims can last for upto 14 days on regular usage. When connected to a smartphone over Bluetooth, the smartwatch receives calls, notifications and more such alerts. Users can reply to certain alerts using the preset replies but there is no way to send a custom message. It has been five days now since our OnePlus Watch was last fully charged and the battery level has already plummeted to 41% leading us to believe that it won't make it past the week. This is with continuous heart-rate tracking and sleep tracking enabled and the screen brightness set to medium. The OnePlus Watch uses a magnetic pop-pin connector and supports Warp Charge fast charging that quickly fills up the battery.
OnePlus Watch Verdict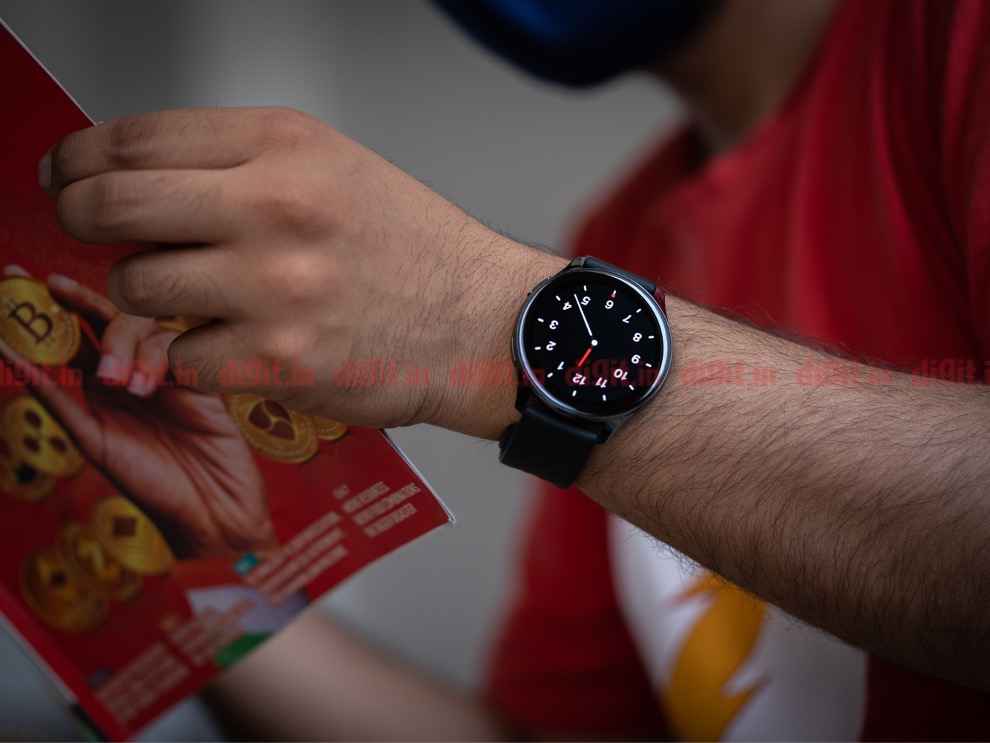 Being its first smartwatch, the OnePlus Watch successfully makes a case for itself in the ever-growing wearables market. It is well-built, looks more premium than the competition and is just an overall worthy smartwatch. Of course, there are certain shortcomings such as its non-WearOS nature, lack of third-party apps and customizable watch faces but it's nothing that cannot be fixed with an OTA update. Having said that, we would have loved to see a more refined software experience something OnePlus does so well with its smartphones.
If you're someone who uses an OnePlus phone and wants to get a smartwatch, the OnePlus Watch is a no brainer for you as it is an extension of the whole OnePlus experience. It is also a good option for users who want to try their hands on a smartwatch without the WearOS baggage. The OnePlus Watch offers almost all of the fitness features that you will find on high-end smartwatches and so it is one of the most enticing options available in the market today.